Education: Books, Videos & Herding Clinics
Hartnagle's Hud
---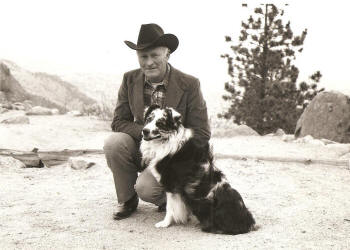 "Hud"
Sire: Taylor's Whiskey
Dam: Taylor's Buena
Breeder: Joe Taylor
Owners: Elaine & Jeanne Joy Hartnagle

| | |
| --- | --- |
| My parents traveled many miles all across the country looking for a successor to our early foundation sire, Badger. It was no easy task. After nearly giving up and maybe having to settle for less, a handsome young scoundrel, a real character, appeared on the scene. Immediately we knew that we found what we had been looking for. He built his reputation under the name of Hartnagle's Hud. Hud filled the bill beyond our wildest expectations. He never held a grudge and would do anything you asked of him. It was often said that Hud was "before his time". | |

Hud was a superb guardian and playmate, as well an an intelligent stockdog. Hud was athletic. He was clocked at 35 mph by the speedometer. He could jump a six-foot high fence flat footed. Beside being a great dog, Hud was a fun dog. He touched our childhood lives in many ways, especially on holidays such as Easter when he would find the Easter eggs and chocolate bunnies before any of us could get to them.

When my father trained Hud for tracking, he would have us lay a trail and hide out in the fields with his reward. It took Hud only a time or two before he started to air scent and locate us in short order.

| | |
| --- | --- |
| | On more than one occasion, Hud saved the day. Once, during the early morning hours, Hud ran into my parents bedroom. He caused such a commotion that my father realized something was wrong. Dad let Hud out the door and grabbed his boots. As he got his boots on, he saw the neighbors stallion and ours striking and biting at each other between the fence. Just then, the fence gave way. All in the same moment, he saw Hud grab the nose of the neighbor's stud and spin him around and then heel him hard. In an instant, he turned to head and heel our stallion and herd him away. Hud's uncanny instincts and outstanding abilities helped Dad get control of what could have been a bad situation. Hud had a lot of grit. |
As a sire, Hud was outstanding an even today, unequaled. Hud passed on his exceptionally beautiful (handsome) clean-cut head, as well as excellent temperament and strong constitution. He crossed extremely well on our line-bred Badger females, as well as our Shiloh daughters.

Hud made the ASCA Honor Roll for siring WTCH Las Rocosa Charlie Glass CD STDh, CH Las Rocosa Hecke's Hud CD ATDc, CH Windsong's Blue Bandanna of Las Rocosa, Windsong's Miska ATDc and CH Deines' Spark CD, to mention a few.

Hud has a warm place in the memories of all of us; especially my father who harbors as great an affection for Hud as for any dog we've ever owned.

Notes by Jeanne Joy Hartnagle-Taylor.

Taylors Whiskey

Lamars Turk

Manskers Smokey

Blue Dog

Black Tri Bitch

Manskers Duchess

Manskers Curt

Manskers Freckles

Manskers Anna Lee

Manskers Kim

Rogers Red Dog

Rogers Blue Bitch

Manskers Freckles

Sislers Shorty

Vassars Fanny

Taylors Buena

Sniffs Dandy Danny

Sislers Joker

Sislers Shorty

Woods Little Blue

Smiths Trixie

Luttrells Tim

Sniffs Calico

Petramalas Tate

Basque Dog 3

Basque Dog

Basque Bitch

Basque Bitch 3

Basque Dog

Basque Bitch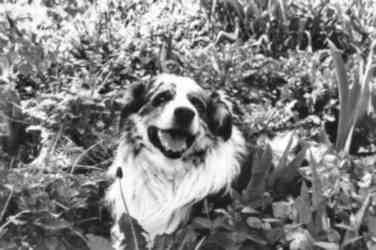 HARTNAGLE'S LAS ROCOSA AUSSIES
E-mail: lasrocosaaussies@aol.com
Telephone: 303.659.6597
Fax: 303.659.6552
Breeding Sound Versatile Aussies Since 1955
Founding/Lifetime Members ASCA and USASA
Copyright© 1999-2015. All information, pictures & graphics contained on this website belong to
Las Rocosa Australian Shepherds & cannot be reproduced without written consent. All Rights Reserved.
The Hartnagle's Las Rocosa website designed & maintained by Mikatura Web Design