Education: Books, Videos & Herding Clinics
The Total Australian Shepherd:
Beyond The Beginning
---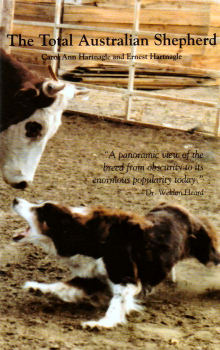 by Carol Ann Hartnagle & Ernest Hartnagle

This

is the first and only book of its kind. It is authored by Carol Ann Hartnagle and Ernest Hartnagle, two well-known, highly respected authorities who have a lifetime association with Australian Shepherds from the beginning of the breed's formation.

History - They did not research the breed from a book, nor was it their mission to offer a reasonable explanation of the breed's history. They followed a line of investigation. The work is thoroughly documented and richly illustrated with many never before published photographs. They link the present to the past and put faces with the names.

Character - Written descriptions of personality are brought to life with interesting anecdotes and photographs illustrating the true temperament of the Breed. Early owners including Fletcher Wood recount stories about the Wood's Jay and Dandy, and Jay Sisler reveals the training techniques he used to teach Stub and Shorty and so many more.

Jay Sisler with John, Joker Greta and Silver
Photo Courtesy Jay Sisler / Larry Lansbaugh


Jay Sisler jumping rope with Stub and Shorty.
Photo Courtesy Floyd McCall 1954
Breeding - The reader will also learn about the philosophies of foundation breeders such as Dr. Weldon T. Heard who developed the famous Flintridge bloodlines and others who give insight about their successful breeding programs and dogs.
It bridges the past genetic studies to the new nomenclature and the latest research with the most current medical information. The breeding chapter is designed to empower breeders with information they need to build better, healthy bloodlines.

Genetics - The Genetic Chapter was written specifically for The Total Australian Shepherd by the late, world-renowned geneticist George A. Padgett, DVM, and author of Control of Canine Genetic Diseases.

Judging Synopsis - The Judging Synopsis is a wealth of information conveyed from a lifetime experience working and judging the breed. It will answer many questions owners have about the structural differences between working and show bloodlines. Readers will learn about the sprinting and trotting drive trains in an outstanding presentation of structure and gait.

Whether you simply own and love an Australian Shepherd or are deeply involved in breeding and competing, this book is a must have for every Aussie owner.
Click here for more reviews from the Aussie Times, Australian Shepherd Journal & Dogs in Canada
Return to the Stewardship and Education page

HARTNAGLE'S LAS ROCOSA AUSSIES
E-mail: lasrocosaaussies@aol.com
Telephone: 303.659.6597
Fax: 303.659.6552
Breeding Sound Versatile Aussies Since 1955
Founding/Lifetime Members ASCA and USASA
Copyright© 1999-2015. All information, pictures & graphics contained on this website belong to
Las Rocosa Australian Shepherds & cannot be reproduced without written consent. All Rights Reserved.
The Hartnagle's Las Rocosa website designed & maintained by Mikatura Web Design