CH Las Rocosa Tom Bull Wolf STDs
---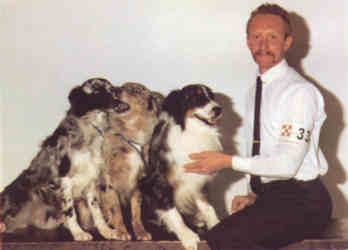 "Tommy"
Joseph Hartnagle pictured above with (left to right)
CH Fancy Fan Fair of Las Rocosa STDc (HOF); CH Las Rocosa Bow-Kay STDc &
CH Las Rocosa Tom Bull Wolf STDs
Sire: HOF CH Las Rocosa Little Wolf STDcd
Dam: Las Rocosa Tumbleweed of Coppertone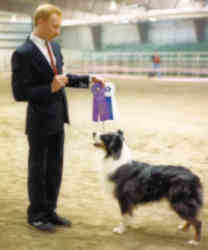 Photo by Tweeinot Aussies
Tommy is 21-1/2" at the wither and is a blue merle with white and copper trim. He has proven himself in the show ring as well as the trial arena.
Tommy has a beautiful, natural fetching style and can work sheep or cattle equally well. Tommy has a fantastic trainable temperament that he passes on to his get.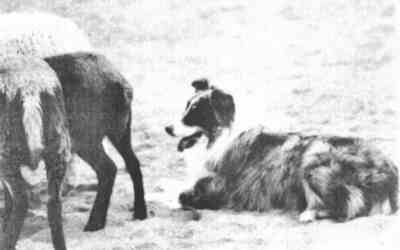 Photos and information are from the books Australian Shepherd (AS) by Joseph Hartnagle and All About Aussies (AAA) by Jeanne-Joy Hartnagle-Taylor and from Las Rocosa information brochures. All information is used with permission.

HARTNAGLE'S LAS ROCOSA AUSSIES
E-mail: lasrocosaaussies@aol.com
Telephone: 303.659.6597
Fax: 303.659.6552
Breeding Sound Versatile Aussies Since 1955
Founding/Lifetime Members ASCA and USASA
Copyright© 1999-2015. All information, pictures & graphics contained on this website belong to
Las Rocosa Australian Shepherds & cannot be reproduced without written consent. All Rights Reserved.
The Hartnagle's Las Rocosa website designed & maintained by Mikatura Web Design