HOF CH Las Rocosa Little Wolf STDcd
---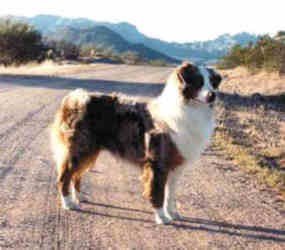 "Wolf "
Wolf, a third generation Hall-of-Fame sire!
Sire: HOF Las Rocosa Lester CSD
Dam: HOF Las Rocosa Christophene STDsd OTDc
Little Wolf is 19-1/2" at the wither. He is a deep red merle with white and copper trim. Show highlights include winning fourteen (14) conformation show points in less than thirty days at a mere ten (10) months of age! Wolf has an intense working style and possesses the heart to go the distance when the going gets tough. He will both head and heel with equal ease.
Wolf is an ASCA Honor Roll Sire and is now in the Hall of Fame.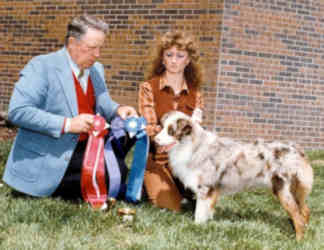 Jeanne-Joy Hartnagle-Taylor and Wolf
In essence the Breed Ring winner should be able to go out and function in the real world where soundness and conformation are measured by the yardstick of performance.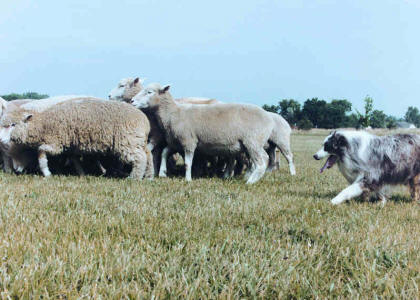 Aussies are a close-working, authoritative breed. Heavy (sticky) sheep and large range flocks require a closer working distance between themselves and the dog in order to make them move.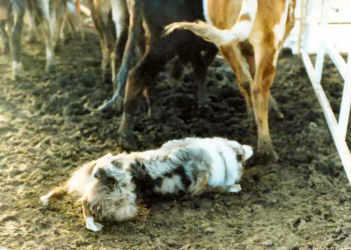 CH Las Rocosa Little Wolf displaying the inherited low heeling instincts typical of the bloodline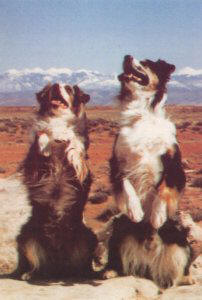 This is possibly one of our most famous photos, Ashley & Wolf
Progeny Sired by HOF Champion Las Rocosa Little Wolf STD-CD:

• WTCH Las Rocosa Zuni's Crimson Mist
• Ch Las Rocosa Tom-Bull Wolf
• Las Rocosa Colorado Sun OTD-s
• Las Rocosa Sherry Delight ATD-d, OTD-cs
• Ch Las Rocosa Wyo I
• Ch Las Rocosa Morning Wolf of Mt. Gold
• Ch Las Rocosa Dancing Wolf of Windsor
• Aquiline Abigail ATD-d, OTD-ds
• Ch Royal Scot of Windermere
• Ch Stormy Wishes of Windermere
• Ch Wildfire of Windermere
• Ch Hondo of Blackwatch/Las Rocosa

Photos and information are from the books Australian Shepherd (AS) by Joseph Hartnagle and All About Aussies (AAA) by Jeanne-Joy Hartnagle-Taylor and from Las Rocosa information brochures. All information is used with permission.

HARTNAGLE'S LAS ROCOSA AUSSIES
E-mail: lasrocosaaussies@aol.com
Telephone: 303.659.6597
Fax: 303.659.6552
Breeding Sound Versatile Aussies Since 1955
Founding/Lifetime Members ASCA and USASA
Copyright© 1999-2015. All information, pictures & graphics contained on this website belong to
Las Rocosa Australian Shepherds & cannot be reproduced without written consent. All Rights Reserved.
The Hartnagle's Las Rocosa website designed & maintained by Mikatura Web Design