Education: Books, Videos & Herding Clinics
The History of The Australian Shepherd Club of America
Chapter IV: Highlights 1977 - 1979

---
1977 Highlights:
ASCA Breed Standard - January 15, 1977, the Australian Shepherd Breed Standard becomes effective.
ASCA Yearbook - The historic ASCA Yearbook project was authorized. It was to be a book of the breed's most important activities, top winning show dogs, stockdogs, and obedience dogs. It was to trace back over 20 years of the breed's prime development, hence ASCA Yearbook 1957-Twenty Years Progress.
ASCA's Development – In August, Ernie Hartnagle (ASCA's President) wrote a letter to the membership dated August 1, 1977 regarding the club's development:
"Within a few weeks, our present Board Members will have finished their present terms, and I feel that it is only proper to credit their accomplishments to them.

"Most board business has been conducted by correspondence, which is time consuming, many times frustrating, and seriously hampers the degree of timely productivity. Sensitive and major issues do require extensive research and reference before a final decision can be reached.

"During the formative period of any organization, many problems arise before the necessary rules and policies are developed to handle them effectively.

"The demand on our present Board to formulate the necessary guidelines and conduct the general business management of the organization has been most taxing, and people with lesser dedication and courage would have not survived. To date, the Board has resolved 82 issues, plus effecting both the By-Laws and the Standard for the Breed.

"The Registry has been officially opened August 1, 1977 for acceptance of previously non-ASCA registered dogs. Members should contact the Affiliate Club in their area for information and procedure. The Registry will remain open thru 1978, with an option for extension to be considered again at that time. The Show Rules and the Stock Dog Rules that were submitted by the respective Committees have been finalized and approved by the Board."
Breeder Judge Program - This same year a Breeder Judge Program is proposed. The objectives of the program were:
1.
Improve the breed by utilizing the judging talents of those who are most familiar with the breed and who should have the desire to improve
the breed - the breeders.
2.
Improve the breed by providing ASCA members the educational benefits the viewing and judging of dogs can provide, for to be a good breeder one must be a good judge.
3.
Provide as many qualified judges as possible so that members are afforded the opportunity of having their dogs passed upon from a variety of viewpoints, for it is the composite of judgments which influence the development of the breed.
4.
To promote a high degree of integrity, impartiality, and character among ASCA members.
Junior Showmanship Program - In September, Steve Stevenson sent out a letter to the Juniors who competed in the ASCA National Specialty in Kansas City, Missouri, at which points were awarded in the new Junior Showmanship Program. In the letter that Carol Ann Hartnagle received, Steve commended her, "I also want to take the opportunity to congratulate you on your placement in the show. I am sure that you realize that you competed with some of the finest Junior Handlers that the country has to offer. Yours was quite an accomplishment. Our club and our breed rest in your hands. You are our future. After having the opportunity to see you handle and to see the beautifully groomed dog that you handled, I am very confident that our breed and club are in very capable hand.
Very Sincerely, Steve Stephenson"
Results from the Specialty:
Novice Junior:

1st Cheryl Haddock

2nd Jon Bartley

3rd Carol Kempher

4th Jackie Spicuzza

Novice Senior:

1st Jeannette Granzow

2nd Larry Park

3rd Sonya Haddock

4th Stanley E. Bartley

Open Junior:

1st Lori Park

2nd Kelly Moor

3rd Scott Martin

Open Senior:

1st Erin George

2nd Carol Ann Hartnagle

3rd Kelli Park

Best Junior Showman:


Erin George, Best Junior Handler at the 1977 ASCA National Specialty
with Champion Jimmy Caligari, winner of the Best Of Breed at the 1977 Specialty
---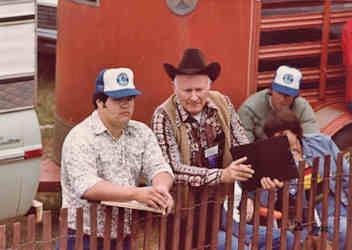 F.A. 'Tony' Box (l), Stock Dog Apprentice Judge receiving a few
pointers from Senior Judge, Ernie Hartnagle (c), with a few spectators,
James & Joyce Reeves (r), looking on & getting a sneak peak at the score card.
1978 Highlights:
ASCA Breeder Judge Program – The new ASCA Breeder Judge Program was announced in September at the National Specialty in Berrien Springs, Michigan. Five breeder judges have been approved under the new program: Phil Wildhagen, Jeanne Joy Hartnagle, Ernie Hartnagle, JoAnn Bishop and Harry Bishop (October 7, Monthly Board Report - Winter issue of the Aussie Times 1978-1979).
Letter to ASCA Membership – Ernie Hartnagle communicated with the membership through a letter. He wrote:
"Once again, an election time is upon us. I am rather surprised that there were not more candidates interested in guiding our organization.

"ASCA has grown immensely in the past few years. Many programs have been instituted to promote the Breed and maintain active interest in the club and the Breed. We have been very fortunate to have well-qualified people in the appointive positions to handle these problems.

"The Registry Offices are the items of greatest concern for the near future. Once again, we are receiving numerous letters of complaint that people are not receiving papers on dogs that the owners feel are overdue.
"This happened a couple of years ago, too. At that time, the Board of Directors agrees to compensate the Registrars at the rate of $1.00 per certificate issued. This fee was provided for the increase from $3.00 to $5.00 in registration fees at the Board meeting held in Scottsdale, Arizona, in late 1975. This action of paying the Registrars was met with howls of protest from segments of the membership. Judy Taylor, at the time, volunteered her services and consequently the Registry was moved to her location."
ASCA had over 6,000 Australian Shepherds registered at the time. "If the members of ASCA wish to continue a registry service in the future, plans must be made to protect the Registry now, before it is too late.
"In preparing club records for my successor, many old issues were once again jogging my memory. This led back once again to names, faces, and dogs, many of which are no longer with us. Some have become inactive, while others have found other avenues of interest. There are some though, that have continued to maintain their interest and enthusiasm for the club and the breed.
"There have been many dark days during the forming of our programs and policies when it seemed doubtful to many that ASCA could meet the challenge to survive much less to grow and prosper. You begin again to recall these dedicated people who stayed to meet the challenge of furthering the goals and mold the club into the progressive organization that it now is.
"Not many fanciers today remember the emergency Board meeting held in Redding, California, shortly after Elsie Cotton's resignation from the presidential office. It was at that meeting where the then-Board members, Phil Wildhagen, the late Gwen Stevenson, and I, with about a dozen concerned fanciers, laid the ground work upon which our present day organization is functioning. Shortly afterward, a long list of new policies, programs, and incentive activities began to appear in the horizon. At that point in time, ASCA did not have the financial stability to fund these programs, and they would not have become a reality had it not been for the people who contributed so freely to support these endeavors.
"We are not able to pass on to our successors a complete set of programs, and a financially sound club. To our Directors, Appointed Officers, both past and present, and members who contributed to making this administration a success, I extend my sincere appreciation and thank you. It has been both a pleasure and honor to have served as President of ASCA for the past three years.
Sincerely, Ernest J. Hartnagle"

1978 ASCA National Finals High in Trial
Bill Van Hecke with
Champion Las Rocosa Hecks Hud,
Judges Bob Carrillo & Walter Lamar

1978 National Finals High In Trial
Left to right: Jeanne Joy Hartnagle,
Billy Van Heck, Ernie Hartnagle, Elaine Hartnagle
with Champion Las Rocosa Heck's Hud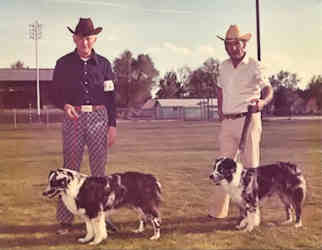 It was not uncommon for early competitors in the conformation ring to dress
in western wear and to go from the conformation ring to the trial arena
© 2004 By Ernest Hartnagle & Jeanne Joy Hartnagle-Taylor
Copyright photos provided from the Hartnagle family archives.
---
Chapter I: ASCA During The Early Years

Chapter II: Highlights - 1970 - 1972

Chapter III: Highlights - 1972-1976

Chapter IV: Highlights 1977 - 1979

Chapter V: The Original Purpose of the ASCA Stock Dog Program

Chapter VI: The Original Stock Dog Program

HARTNAGLE'S LAS ROCOSA AUSSIES
E-mail: lasrocosaaussies@aol.com
Telephone: 303.659.6597
Fax: 303.659.6552
Breeding Sound Versatile Aussies Since 1955
Founding/Lifetime Members ASCA and USASA
Copyright© 1999-2015. All information, pictures & graphics contained on this website belong to
Las Rocosa Australian Shepherds & cannot be reproduced without written consent. All Rights Reserved.
The Hartnagle's Las Rocosa website designed & maintained by Mikatura Web Design