HOF Las Rocosa Christophene STDds OTDc
---
Sire: HOF CH Las Rocosa Shiloh
Dam: Howe's Little Peedee
One of our most prominent dams to date was Las Rocosa Christophene, STDds OTDc (HOF). This Shiloh daughter went on to produce:
- CH Las Rocosa Leo Four-A ATDc
- HOF CH Las Rocosa Little Wolf STDcd
- HOF WTCH Las Rocosa Bonny Kyle RDX (all by Las Rocosa Lester), and
- HOF Las Rocosa Rogue, OTDc (by Las Rocosa Sydney)
Little Wolf, Bonny Kyle and Rogue are all ASCA Honor Roll Sires.
Christophene, a multiple High In Trial winner is noted as the top producing dam of the First Australian Shepherd Stock Dog Working Futurity.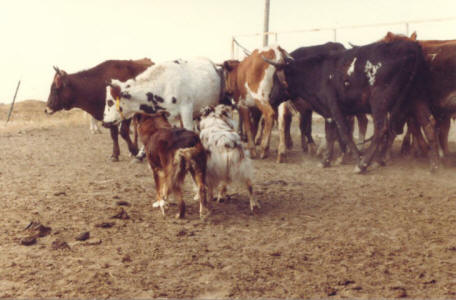 CH Las Rocosa Bengali Tigress STDsd OTDC and Las Rocosa Rogue OTDc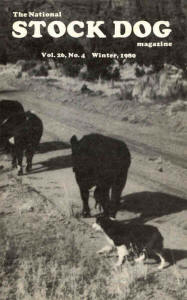 Stophe, National Stock Dog magazine cover, circa 1980
Ch Las Rocosa Shiloh CD

Boehmers Four Man

Taylors Rusty

Lamars Turk

Manskers Freckles

Porters Gillian

Harpers Old Smokey

Gwen Fre Ho Genie

Hosmers Jill

Taylors Whiskey

Lamars Turk

Manskers Anna Lee

Taylors Buena

Sniffs Dandy Danny

Petramalas Tate

Howes Little Peedie

Elys King Of Kings

Elys Chico

Byes Rusty Ii

Byes Grypsie

Williams Georgina

Elys Joker

Barretts Blue Belle

Howes Little Popo Agie

Sniffs Dandy Danny

Sislers Joker

Smiths Trixie

Sniffs Tina

Sniffs Dandy Danny

Sniffs Cow Girl
Photos and information are from the books Australian Shepherd (AS) by Joseph Hartnagle and All About Aussies (AAA) by Jeanne-Joy Hartnagle-Taylor and from Las Rocosa information brochures. All information is used with permission.

HARTNAGLE'S LAS ROCOSA AUSSIES
E-mail: lasrocosaaussies@aol.com
Telephone: 303.659.6597
Fax: 303.659.6552
Breeding Sound Versatile Aussies Since 1955
Founding/Lifetime Members ASCA and USASA
Copyright© 1999-2015. All information, pictures & graphics contained on this website belong to
Las Rocosa Australian Shepherds & cannot be reproduced without written consent. All Rights Reserved.
The Hartnagle's Las Rocosa website designed & maintained by Mikatura Web Design