HOF Las Rocosa Lester CSD
---
The magnificent Las Rocosa Lester, on the ASCA Honor Roll for champion-producing sires.
Sire: HOF CH Las Rocosa Shiloh
Dam: CH Las Rocosa Leslie CSD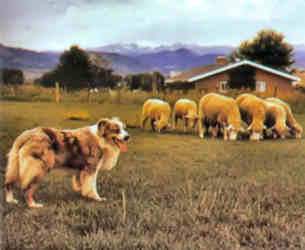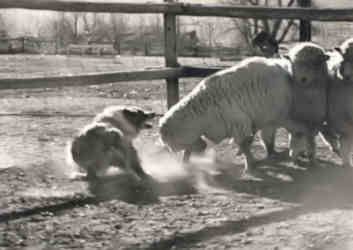 Las Rocosa Lester has the distinction of being the Winning Sire of the First Stock Dog Futurity.
He is the sire of a number of the breeds' foundation individuals.
Progeny Sired by HOF Las Rocosa Lester:
- CH Las Rocosa Leo Four-A ATDc
- HOF CH Las Rocosa Little Wolf STDcd
- WTCH CH The Hawk of Las Rocosa CD RD
- HOF WTCH Las Rocosa Bonny Kyle RDX
- CH Las Rocosa Bengali Tigress OTDc STDsd
- HOF WTCH Las Rocosa Kublia Khan Crown Pt RDX
- CH Las Rocosa Tomichi Pilgrim CDX
- Las Rocosa Jessica Jazz CD ATDd OTDc STDs
- Las Rocosa Miranda of Mt. Blue ATDds, OTDc
- Las Rocosa Cornflower STDc
- Las Rocosa L'oreal STDc
- HOF Las Rocosa Poco Lena ATD-sd, OTD-c
- Loida's Just Plain Charlie ATD-d OTDd-cs
to name a few.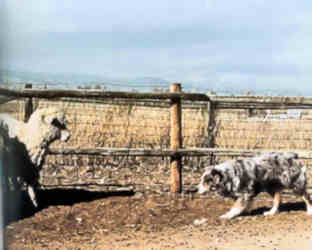 "Eye" appeal. Force is exhibited in a deliberate, authoritative approach
which is characteristic of his ancestry

HARTNAGLE'S LAS ROCOSA AUSSIES
E-mail: lasrocosaaussies@aol.com
Telephone: 303.659.6597
Fax: 303.659.6552
Breeding Sound Versatile Aussies Since 1955
Founding/Lifetime Members ASCA and USASA
Copyright© 1999-2015. All information, pictures & graphics contained on this website belong to
Las Rocosa Australian Shepherds & cannot be reproduced without written consent. All Rights Reserved.
The Hartnagle's Las Rocosa website designed & maintained by Mikatura Web Design